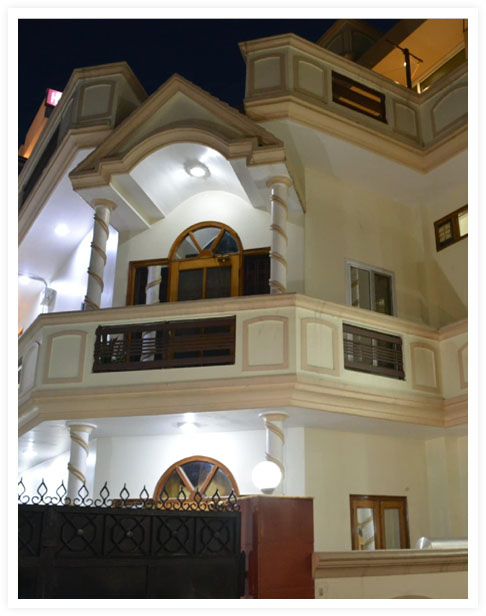 Welcome To
Vashishth Guest House Rishikesh
Vashishth Guest House is situated amidst the scenic beauty of the environment and is one of the best Guest House in Rishikesh. We offer a touch of spirituality & traditional Indian hospitality with comfortable accommodation featuring stylish furniture, high speed internet access. The Guest House has an impressive track record of serving domestic and international pilgrims or Tourists. The guest house has 8 spacious, double bedded rooms with attached bathroom along with all modern facilities.
Vashishth Guest House in Rishikesh, India offers you the chance to stay right next to the Ganga at very affordable prices. Located Behind Parmarth Niketan Ashram, Rishikesh, no other hotel can bring you closer to the majestic Ganga. Vashishth Guest House also provides amply furnished rooms at budget-friendly rates. Additionally, we provide quality service that stays true to the standards. Vashishth Guest House is one of the most popular budget Guest House in the town and is designed to cater to a cosmopolitan clientele.
The entire staff of Vashishth Guest House strives to maintain this level of superior service. From the second you check in to the moment you check out, you'll experience our dedication to excellence first hand. And this commitment has paid off time and time again in the form of acknowledgments and awards. We make sure Vashishth Guest House makes your time in Rishikesh even more memorable. You will notice an attention to detail only possible with family ownership and operation. We Make a concerted effort to please our guests with unsurpassed service, luxury, entertainment and conveniences. Vashishth Guest House always takes a pleasure to provide guests with all amenities at finest budget in Rishikesh, Uttarakhand.