Activities
Rishikesh is known as adventure sports capital of India and one of the most exciting towns and main pilgrimage site in Uttarakhand, located in the foothills of the Himalayas. The city of Rishikesh is also famous as Yoga Capital of the World and regarded as one of the holiest places by Hindus.

Rishikesh is becoming a popular destination for backpacking in India and host a number of adventure sports such as bungee jumping, zip lining, white water rafting and Wildlife Safari.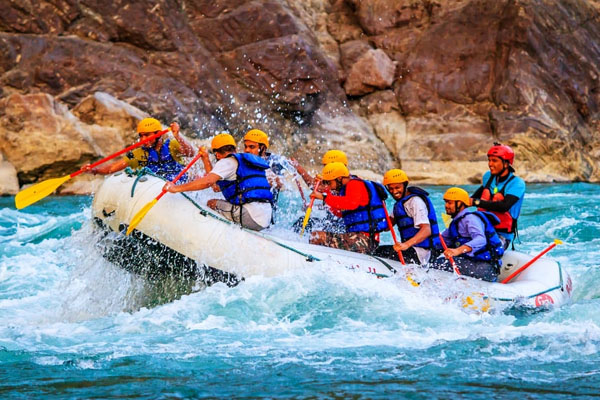 River Rafting
River Rafting is undoubtedly one of the most popular adventure activities in Rishikesh. This water sport allures thousands of tourists from all around. Rishikesh offers a thrilling opportunity to raft down the River Ganga. Rafting right amid rocky mountains, taking all the freshness of the green surroundings and enjoying as the water caresses your face, What could be better? One could feel their heart beat pumping as they move across the gushing water of River Ganga in Rishikesh.

Rishikesh offers this adventurous sport from the month of September to June every year. During these months, the water of River Ganga is perfect for rafting; it is neither too wild nor entirely calm. We can arrange this activity for our guests.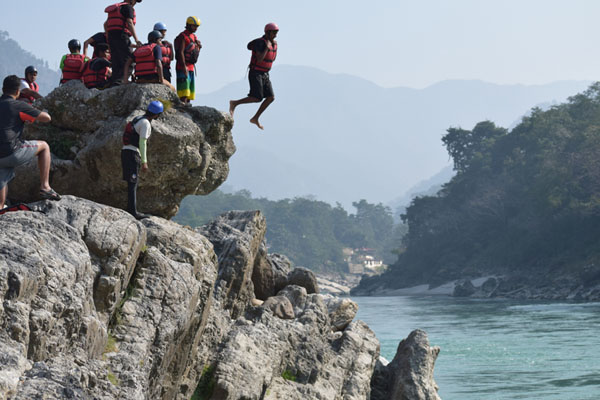 Cliff Jumping
Cliff jumping is one activity where people need to be physically strong as it involves jumping from a high cliff in the freezing water of Ganga. Though the activity involves jumping from a 30-40 ft high cliff, the height can be selected by the person who wishes to indulge in this activity as per their strength. When in Rishikesh, you really can't miss indulging in this exciting activity.

Professional instructors will be with you as you climb up the rock and reach the jumping platform. A helmet and life jacket will be given to you for safety reasons. As soon as you reach the jumping platform, you will feel that air of thrill. And as you jump off the cliff, the raft awaits on the banks of the river.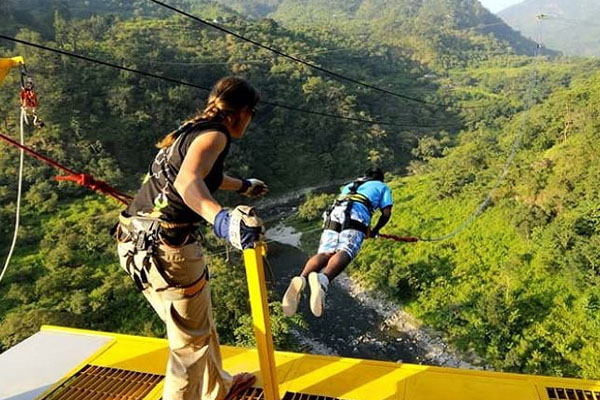 Bungee Jumping
The thrill of jumping down a cliff by only tied to a rubber chord can be truly exciting activity. Rishikesh offers you the chance to enjoy the amazing opportunity to indulge in bungee jumping. Bungee Jumping in Rishikesh has been designed by David Allardice of New Zealand. Jump instructors fly in from New Zealand to operate the adventure activity. Bungee Jump height is 83 m. After the jump, you are lowered down to a drop zone in the river.

You can then go to the cafeteria and enjoy looking at pictures or videos of your jump. You should also not forget to collect your Dare to Jump certificate. minimum age limit to participate is 12 years. The minimum weight allowed is 35 kg and maximum 110 kg.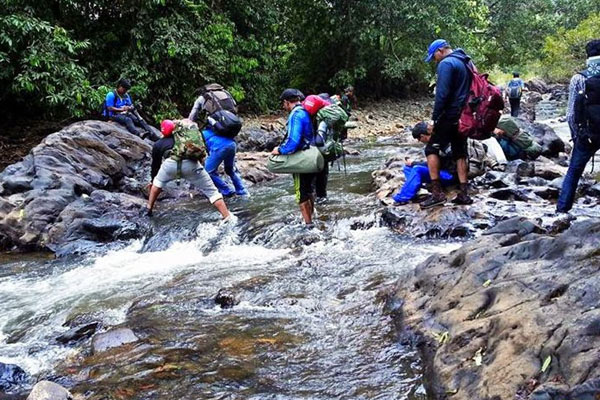 Waterfall Trekking
For those who wish to spend some time close to nature, Waterfall Trekking is the perfect activity. This activity takes you closer to nature away from the hustle and bustle of city life. Waterfall trekking is a great option for all those who love trekking and nature.

There are a number of hidden waterfalls in and around Rishikesh. However, these hidden treasures are not easily accessible. To reach these waterfalls, one has to trek. This is an exciting activity which takes you through the unexplored areas of Rishikesh which are set amid those green surroundings. Some beautiful waterfalls around Rishikesh are Neergaddu Waterfall, GarudChatti Waterfall and Patna Waterfall.